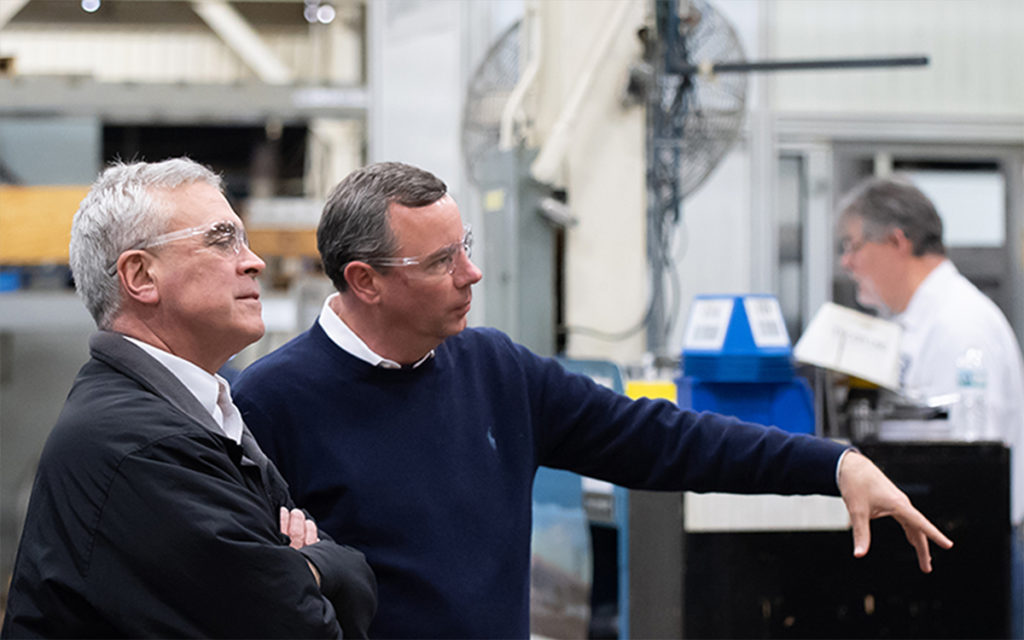 Reading, OH — Yesterday, Representative Brad Wenstrup (R-OH-02) visited General Tool Company while in Reading to meet with the staff of General Tool Company. General Tool Company is a major supplier for the aircraft carrier program and provides Electromagnetic Aircraft Launch System (EMALS) hardware for USS Gerald R. Ford (CVN 78), John. F. Kennedy (CVN 79) and will soon begin work on Enterprise (CVN 80). These critical components have replaced the steam catapults with more efficient electrical systems.
General Tool Company has been busy recently, with the recent announcement of the U.S. Navy's contract award to Huntington Ingalls Industries for the construction of the next two Gerald R. Ford-class aircraft carriers, CVN 80 and CVN 81. The purchase of two aircraft carriers at once will stimulate work for companies like General Tool Company across the country, allowing businesses to phase in work more efficiently.
And General Tool is not alone in working on aircraft carrier parts in Ohio. There are 53 other aircraft carrier suppliers in Ohio. In total, they contribute more than $777 million worth of parts and services for the aircraft carrier program per vessel. Additionally, these companies provide more than 6,750 jobs (directly and indirectly) for the men and women of Ohio. 
Representative Wenstrup toured the 300,000 foot facility and met with the employees that make the EMALS launch hardware and electrical cabinets. He praised the employees for their dedication and efforts on behalf of the American warfighter. He compared them to the "people who pack the parachute" and who must do their jobs right, every day. 
"It was a pleasure meeting with employees at General Tool. Now, more than ever, it is essential that we equip our warfighters with the very best technology and resources available. I am confident knowing that much of the essential equipment our military uses is made right here in Ohio by the men and women at General Tool," said Representative Brad Wenstrup.