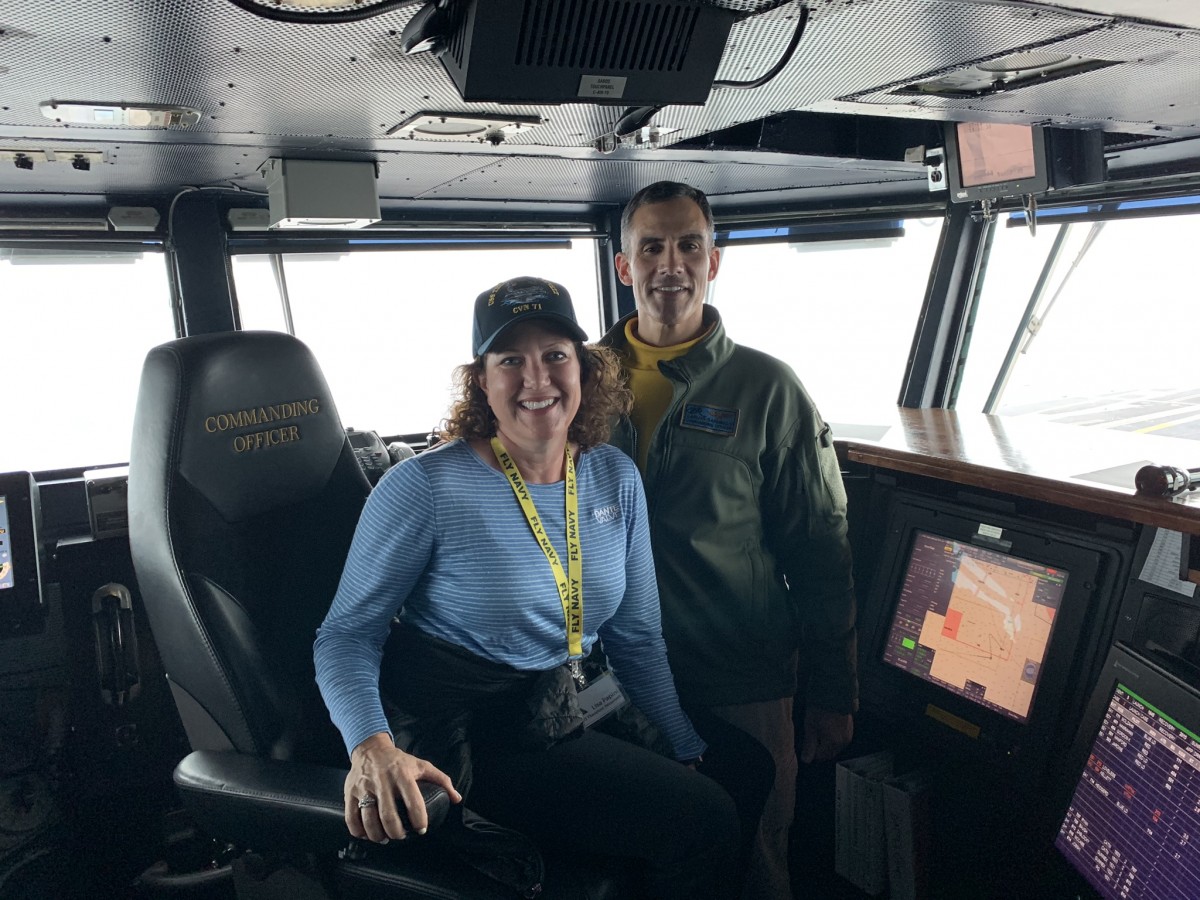 Bellflower, CA — Dante Valve President Lisa Papini recently had the great honor of participating in a U.S. Navy Distinguished Visitor Embark (DVE) flight excursion to an aircraft carrier off the coast of California. In early July, Papini took a C2 Greyhound flight from Naval Air Station (NAS) North Island in Coronado, California to the USS Theodore Roosevelt (CVN 71), located 100 miles out to sea.
Papini marveled at the experience, especially the "arrested landing" on the carrier, which took the passengers from 150 miles per hour to zero in three seconds. She also experienced the incredible rush of the steam-powered "catapult launch" for the trip back to shore. But most impressive, she said, was the exceptional dedication, coordination and work ethic of the carrier crews.
"The DVE was a life-changing experience filled with some thrilling moments," said Papini. "It was just a genuine honor to be a part of it. When we landed, we met the Commanding Officer, the Executive Officer and many members of the crew. They said the engineers were excited to have someone from Dante Valve on board, which was very kind of them."
"I felt like I was dropped into a 'Top Gun' movie," she added with a smile. "There were 400 personnel on deck, all working in sync, performing training and certification maneuvers. And it was all set against a crystal-clear blue sky as a backdrop. Many sailors were very young, but highly skilled and extremely dedicated to their jobs," she noted.
Papini had a chance to dine with some of the officers and actually watched them steer the ship. During the "catapult launch" for the trip back, she experienced an eerie moment of silence and a split-second feeling of weightlessness. "I'll never forget that feeling," she said, "or the impressive talents, focus and humility of the crew."
As a souvenir, everyone on her trip received an "Honorary TR Tailhooker" certificate from the USS Theodore Roosevelt crew – a memento she'll cherish for years to come.